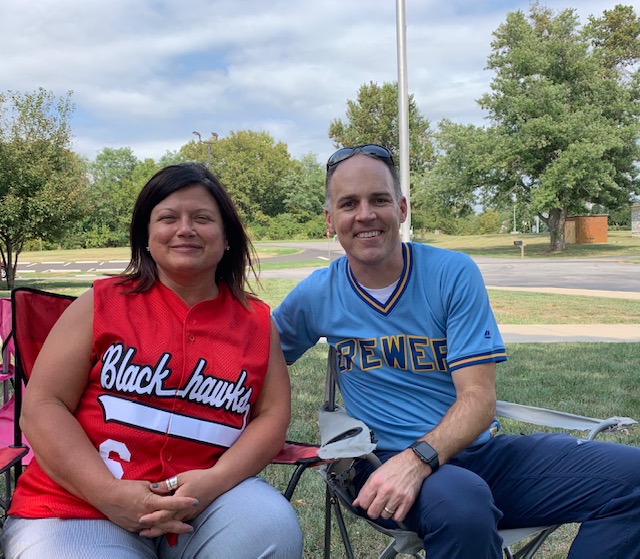 Football season is here and we are wearing our favorite team gear, tailgating, and hosting watch parties. One of my challenges for you and me this year is for us educators to become fans of each other! Educators can often be tough on each other and themselves. Although we know our favorite players and teams sometimes drop the ball, make mental errors, and lose, we love and root for them anyway. Our colleagues and ourselves need the same grace and loyalty we undeniably give our favorite teams week in and week out. We can do this! We need to do this! Our profession needs us living and working in this way!
This week try to Amp Up the Awe for a colleague. Perhaps, you can rally for a teacher in her first five years of teaching, or maybe a colleague in the twilight of his career needs some extra encouragement and attention. If you actively look for a place to honor and celebrate a colleague, you will find it.
Lastly, do not gloss over the part about being good to yourself. Your most important relationship is the one you have with yourself! Reflect on your best qualities as both a teacher and a person. Find ways for those qualities to shine and lead this week and be sure to highlight them at least to yourself.
Upcoming IGNITE #loveinschools Events:
For the third Kentucky School Counselors Association Conference in a row, I will be sharing IGNITE #loveinschools. Please encourage your school counselors to attend the morning IGNITE #loveinschools breakout session and special post-conference session from 1:00-3:00 P.M. this Friday, September 13th in Lexington. Some of you have attended IGNITE #loveinschools professional learning experiences three or four times already, so you know every time is different and each time you learn and live the seven strategies for bringing great energy more deeply. In addition, Friday at the KSCA Conference, I will be sharing new content on the 8th strategy for the first time! You will not want to miss it!
Jefferson County Public Schools staff, I will also be facilitating IGNITE #loveinschools at your fall PD conference for the fourth year in a row! Please join me or encourage a colleague to attend!
Comment below or share with an educator you are a fan of! Help spread educator fandom! Contact Joel today to have him come and speak at your school.